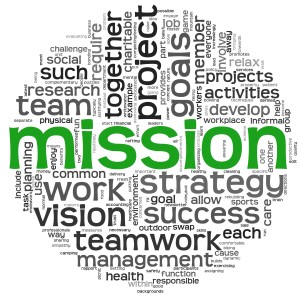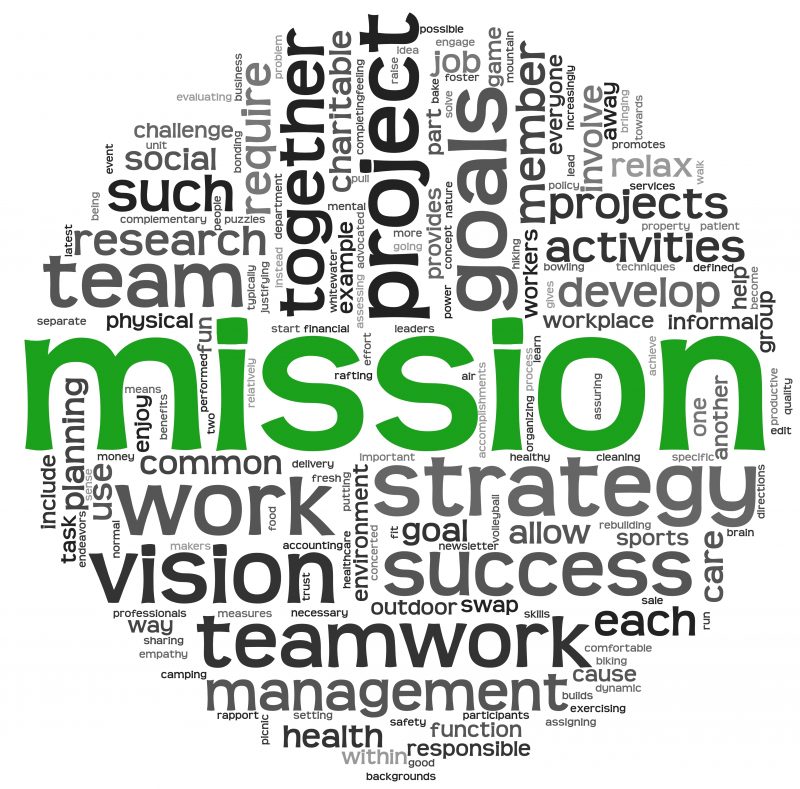 The strategic marketing planning process consists of three factors: (1) identifying where we are now, (2) figuring out where we want to be, and (3) designing a plan of how we're going to get there.
Many successful companies are around today because of strategic planning; they created the right product at the right time. Did you know that over three quarters of the 100 largest U.S. corporations from 70 years ago have fallen off the list (Peter & Donnelly, 2013, p. 4)?
The mission statement starts the strategic planning process. Without a mission, there is no clear direction for management and team members. The mission statement is the starting point for corporate and marketing planning. It is one of the most important documents in any organization. But what exactly is a mission statement, and how does one create one?
What is a mission statement
There are many definitions of what a mission statement is. For example, Peter & Donnelly (2013) suggest that the mission statement is the purpose of an organizations existence. It states the direction that the organization is moving. Gilligan & Wilson (2009) suggest that the mission statement is a statement of core values and is the framework from which business units prepare their strategic marketing plans (p. 304).
Mission statements have also been referred to as the invisible hand that guides team members and management to work towards a common goal. Kotler & Keller (2012) suggest that a clear and well thought out mission statement provides a shared sense of purpose, direction and opportunity (p. 38).
Many of the world's great leaders have been driven by mission statements, and many of the world's strongest companies have mission statements that are clear and concise. The mission statement is the most powerful document in an organization because it is the voice of reason, when there are no voices around to provide direction or advice.
Mission statement examples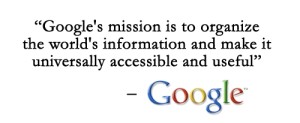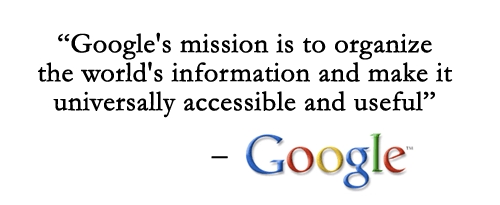 Examples of mission statements is one way in which the concept can be grasped better. For example, the image to the right show's Google's mission statement. Notice how it's clear, concise, and straight to the point.
Ikea presents their mission and vision statements as one unified statement:
"At IKEA our vision is to create a better everyday life for the many people. Our business idea supports this vision by offering a wide range of well-designed, functional home furnishing products at prices so low that as many people as possible will be able to afford them."

Finally, General Electric's (GE) mission statement (pictured) is somewhat different. GE uses an equation to exemplify it's mission.
More examples can be found here of Fortune 500 mission statements.
How to write a mission statement
For a mission statement to be effective, it must be realistic and detailed. Gilligan & Wilson (2009) highlight three dimensions that must be addressed:
Which customer groups will be served
Which customer needs will be met
Which technology will satisfy these needs
The mission must also be specific, focused on customer needs, reflect the organizations core skills, be attainable and flexible (p. 306).
Peter & Donnelly (2013) suggest answering the following questions first:
What is our business?
Who is the customer?
What do customers value?
What will our business be?
The mission must also take into account the organizations history, distinctive capabilities, and environment (p. 7).
Kotler & Keller (2012) remind us to focus on a limited number of goals and define the competitive spheres from which the company will operate. The mission should also take a long-term view and be as short, memorable and meaningful as possible (p. 38).
There are many ways to formulate a mission, other items to take in to account include segments, geographic regions, and verticals. The product of the mission statement should provide anyone within the organization with a clear direction of where the company is going. When anyone is in doubt, the mission statement will provide a clear direction from which to focus.
Developing a mission statement
Stephen Covey is a brilliant man, and before he moved on, he talked at great length about personal mission statements. Whether personal or corporate, the mission statement is a powerful tool that helps provide direction and guide decisions. In the video below, Stephen Covey discusses the personal mission statement:
(Source: YouTube.com)
What's Next?
After the mission statement has been crafted, a vision statement will follow, along with the commencement of the strategic marketing planning process.
References
Gilligan, C., & Wilson, R. M.S. (2009). Strategic Marketing Planning (2nd ed.).
Burlington, UK: Butterworth-Heinemann.
Kotler, P., & Keller, K. L. (2012). Marketing Management (14th ed.). Upper
Saddle River, NJ: Pearson.
Peter, J. P., & Donnelly, J. H., Jr. (2013). A Preface to Marketing Management
(13th ed.). New York, NY: McGraw-Hill Irwin.