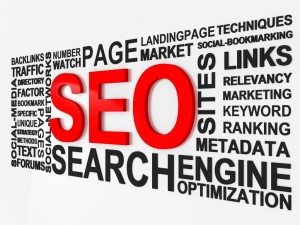 Search engine optimization (SEO) is a term that is used to define the technique of ranking a website in the search results. Employing SEO tactics on a website, will improve the chances that the website will show up in the search engine results pages (SERPs). While there are hundreds of ranking factors, only a few carry enough weight to have a considerable impact on a websites rank.
Numerous studies have been conducted on website ranking factors. Below is a small list of some popular studies:
Search Engine Ranking Factors
As mentioned above, there are tons of website ranking factors. Most notably, the following shortlist covers the main tactics: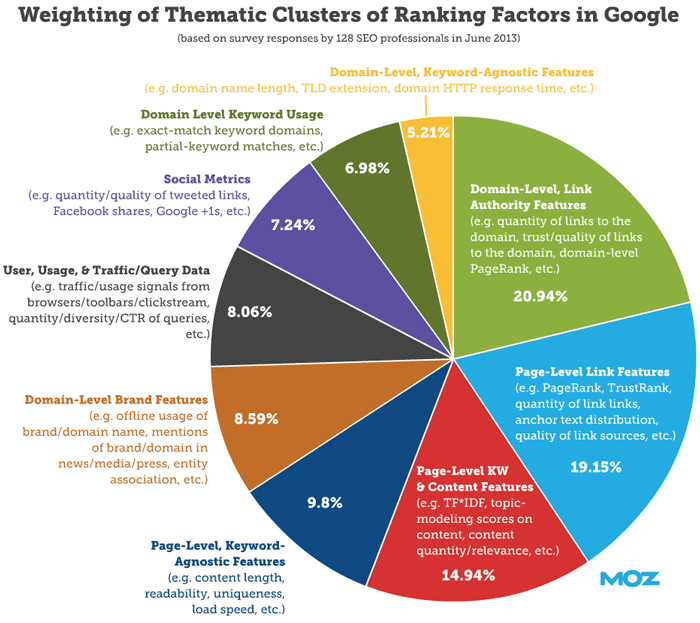 Number of linking domains
Number of linking pages
Domain Authority (DA)
Page Authority (PA)
Age of domain
Semantic markup
Social signals
On-page HTML tags
The SEO landscape continues to evolve, and algorithmic factors that once worked very well, no longer work. The on-page HTML signals although useful, are very low in terms of ranking weight. None the less, they are still important and should not be neglected. Rand Fishken wrote an excellent article about keyword targeting and SEO.
For a detailed overview of SEO, download the beginners guide to SEO care of Moz.com.
Inbound Linking and SEO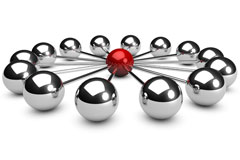 Linking to a site has the highest SEO value. Google perceives every link to a site to be a vote for that site. Hence, if a site is receiving many inbound links from other sites, it must have extrodinary content, be authoritative, relevant, or be popular for some reason. The next time a query is typed into the Google search engine, the site that has the most "votes" will more than likely be ranked close to the top of the search results.
This is amplified when linking sites have extremely high PA or DA or both. Sites that are authoritative and relevant will have higher DA and the same goes for pages earning a higher PA. When these sites link to other sites, it signals Google's algorithm that the linked to pages are also highly trustworthy.
There are many SEO's on the internet that attempt to manipulate the search rankings by buying links and creating elaborate linking networks in which sites can be linked to 100,000's of times, but the linking sites have no real authority behind them. This is the reason for the metrics Page Authority (PA) and Domain Authority (DA)
Check out the video explaining DA below:
Domain Age and Website Ranking
While not listed in many studies, I conducted an empirical study of search engine ranking factors in a statistics course. Although my sample frame was considerably smaller than the sample frames from the studies listed above, I was able to infer using statistical analysis that domain age does impact website rankings.
I hypothesized that domain age does affect a websites rank in the search engines. Using a paired samples t-test with a significance level of 0.05, I compared the mean domain ages of sites ranking in the top three vs. sites ranking in the top ten and above.
The results of the paired samples t-test found that the test statistic was outside of the rejection region; the p-value was also less than the 0.05 significance level. This means there is statistical evidence to conclude at a 95% confidence level that the domain age of a website does in fact impact a websites rank in the search engines.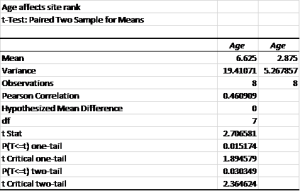 SEO and Strategic Marketing Planning
The strategic marketing plan will require constant monitoring and controlling of marketing activities. SEO metrics are one way to validate the SEO efforts and ensure that the efforts put forth are returning results.
SEO Metrics: Click-thru Rate & Dwell Time
Dr. Peter Myers (2012) wrote an article on the Moz blog discussing SEO metrics. The two metrics discussed were click-thru rate (CTR) and dwell time. CTR is referenced from the search engine results pages (SERPs), and Myers figures that higher CTR from a given SERP might suggest that the result clicked on is relevant. Myers describes dwell time as the time between when the user clicks on a link in the SERPs, and the time when they return to the SERPs. If the time is short, then the search algorithm might consider the result to be useless, while if the time is longer then the result might be useful. Myers describes dwell time as a combination of bounce rate and time-on-site. Together, Myers suggests that these two metrics are valuable because a searcher will click-thru and then the clock starts ticking for how long they remain on that site. The CTR can be found in the Google Webmaster Tools (GWT) by clicking "your site on the web" and then "search queries". Dwell time can be calculated by identifying the bounce rate/time-on-site for the particular page in question. (Myers, 2012).
SEO Metrics: Traffic, Referrers and 404s
Harrison Jones (2014) wrote an article on Search Engine Land discussing "21 metrics for monitoring SEO health". Of the metrics discussed in the article, a few stuck out as being important in my opinion. The first is organic traffic changes. Obviously if the organic traffic is dropping, then something has happened to affect the traffic loss. Another metric that is important is referring sites. Usually, referring sites are those sites that link to your site. If less – or zero – traffic is coming from a past performing referrer, you may want to investigate your backlink profile to see if you've lost a backlink. The final metric is 404 page views. Jones suggests setting up Google Analytics (GA) to send an email weekly for all page views with a 404 in the URL. This will identify broken links and which pages need to be 301 redirected to correct pages so users are finding what they are looking for (Jones, 2014).
SEO Metrics and Google Analytics
Chuck Price (2014) wrote an article on Search Engine Watch. This article is excellent because it provides eight metrics for managing SEO, and Price went one step further by providing the GA reports which can be downloaded and used in GA. Of the metrics discussed, the "SEO insights for organic" report provides the URL, page title, entrances, page views, bounce rate and pages per visit metrics. Using this report, keywords can be identified as being top performing – in light of the "not provided" issue – and to take it one step further, these page URL's can be thrown into the keyword density analyzer to further understand which keywords might be hiding in that page. The other report is the "who's linking to your content" report. This report provides an overview of which content is getting the most referral traffic. By clicking on any link in this report, you will be able to see which links are bringing the traffic (Price, 2014).
SEO Metrics and Google Webmaster Tools
Cyrus Shepard (2011) of Moz weighs in with a few insights from the search engine optimization reports in GA. While these require you to link your GWT to GA – and I strongly recommend this – the reports can provide some insight into SEO performance. The "not provided" fiasco takes away from the query reports, but still, any info is good info for the keywords that are provided. Sheppard suggests including advanced filters to improve the efficiency of the queries report. The landing pages report shows which landing pages are performing the best. This insight is valuable for understanding search visibility. The final report is the geographical summary. This is great for targeting regions, which I'm sure can be drilled down into other tools to get local (Shepard, 2011).
Final Website Ranking Factor
While many website ranking factors have been listed above, the single most important factor's to ranking a website are the easiest.
Submit website in Google and Bing webmaster tools
Verify Robots.txt is not blocking search engines
Verify Meta Robots at the page level are set to index, follow
Submit a sitemap to Google and Bing in their webmaster tools
Learn more about Robots.txt
Submit a site to be indexed and submit a sitemap to Google and Bing. Links below:
Google Webmaster Tools
Bing Webmaster Tools
Summary

To rank a website and earn valuable search engine traffic, websites must be relevant and authoritative. They must provide an excellent user experience, and take advantage of search engine optimization techniques which make it easy for the search engines to find and index the site.
Submitting the site to be indexed by the major search engines is the first step. If they don't know about you, they will not index you. Second is to ensure the search engine spiders are not blocked by robots.txt or meta robots page level directives. Finally, a combination of on-page SEO and off-page SEO tactics will push the site up the rankings. If you own a domain that has some age, I can infer that Google perceives older domains to have a greater trust, and hence, rank these sites higher than younger sites. It's important to focus on inbound links from sites with good PA and DA. If you think you can cut corners by buying thousands of links, you will see a brief boost in rankings followed by a penalty by Google – or even worse – being completely de-indexed from the search engine.
If you want some help ranking your site, contact me and we can set up a meeting to go over your site.
References
Dover, D. (2011). Search Engine Optimization Secrets. Indianapolis, IN: Wiley.
Jones, H. (2014, August 15). 21 Metrics For Monitoring SEO Health. Retrieved
March 15, 2015, from searchengineland.com website:
http://searchengineland.com/21-metrics-monitoring-seo-health-198337
Myers, P. J. (2012, February 22). The 2 User Metrics That Matter for SEO.
Retrieved March 15, 2015, from Moz.com website: http://moz.com/blog/
the-2-user-metrics-that-matter-for-seo
Price, C. (2014, March 10). Top 8 Google Analytics Reports for Managing Organic
SEO Campaigns. Retrieved March 15, 2015, from searchenginewatch.com
website: http://searchenginewatch.com/sew/how-to/2333093/
top-8-google-analytics-reports-for-managing-organic-seo-campaigns
Shepard, C. (2011, October 4). New SEO Reports in Google Analytics Now Here.
Retrieved March 15, 2015, from Moz.com website: http://moz.com/blog/
seo-reports-google-analytics