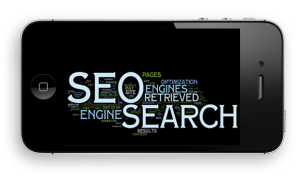 Mobile usage has grown exponentially over the last few years, and over the next few years, it is slated to grow to staggering heights. Included in that growth is mobile marketing strategies which finds marketers attempting to connect with consumers on their smartphone devices. Don't believe me, just look at these statistics:
Mobile ad spend will grow from 12.9% to 83% of marketers search budgets by 2018
Walmart reports 70% of its website traffic during Thanksgiving was Mobile
Target reports that 60% of its website traffic during Thanksgiving was Mobile
Mobile SEO Factors
There are many SEO factors that can help rank a website, but what about mobile? Is there specific mobile SEO factors that can help catapult a mobile site up the rankings? Moz.com reports the following factors as being mobile SEO friendly:
Page Speed
Do Not Block CSS, JavaScript or Images
Site Design: No Flash, No Pop-ups
Design for the Fat Finger
Title and Meta Description Optimization
Implement Schema.org Structured Markup
Optimize for Local Search – standardize the Name, Address, Phone and City in metadata
Mobile Responsive Website
How Can Mobile SEO Help Your Business
Mobile Site Configuration
One of the most important items for mobile SEO is having a mobile site or a theme that uses a responsive design. By using a responsive design, the site will render based on what type of screen the user is viewing the site on. The ability to properly render the site for every device creates a pleasant user experience which Google seems to be weighting heavily in its mobile SEO ranking factors.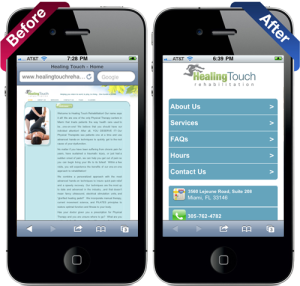 Google's New Focus: Mobile SEO
It has been mentioned in many places that Google is giving priority to mobile sites in its mobile search engine. So what does this mean….? Well, if your site can meet the Google expectations while your competitors don't, then you will be the one showing up in the mobile search engine while your competitors will see their traffic decline.
Don't believe me?
The Google Developers site has created an entire guide designed to help webmasters learn and implement mobile SEO practices. What does this guide suggest?
Is Your Site Mobile Friendly?
Google has taken the mobile friendly focus to the next level by creating a mobile friendly test for webmasters, marketers and business owners alike to test their site and see how it stacks up to Googles mobile expectations.
Take Google's Mobile-Friendly test here
Are Searchers Finding You via Mobile?
As mentioned in a previous post on SEO, it should be a priority to install and activate Google Analytics on any site. Mobile SEO can be measured just as any normal SEO efforts. One of my favorite reports is the mobile organic traffic. To access the report, simply select Audience > Mobile > Overview, and voila, you have a plethora of mobile data.
Summary
As the growth of mobile continues, business owners and marketers alike have no option but to embrace the mobile landscape. To be successful the site must be mobile responsive or be a mobile site; make sure to test the site in Google's Mobile-friendly test. Ensure page load speed is fast, structured markeup is implemented in HTML, and tites and meta info includes name, address, phone, city and state/province. Continue to optimize for strategic key phrases, and develop relationships which generate links to the site. Finally, analyze the data and make necessary adjustments to ensure targets are being met.